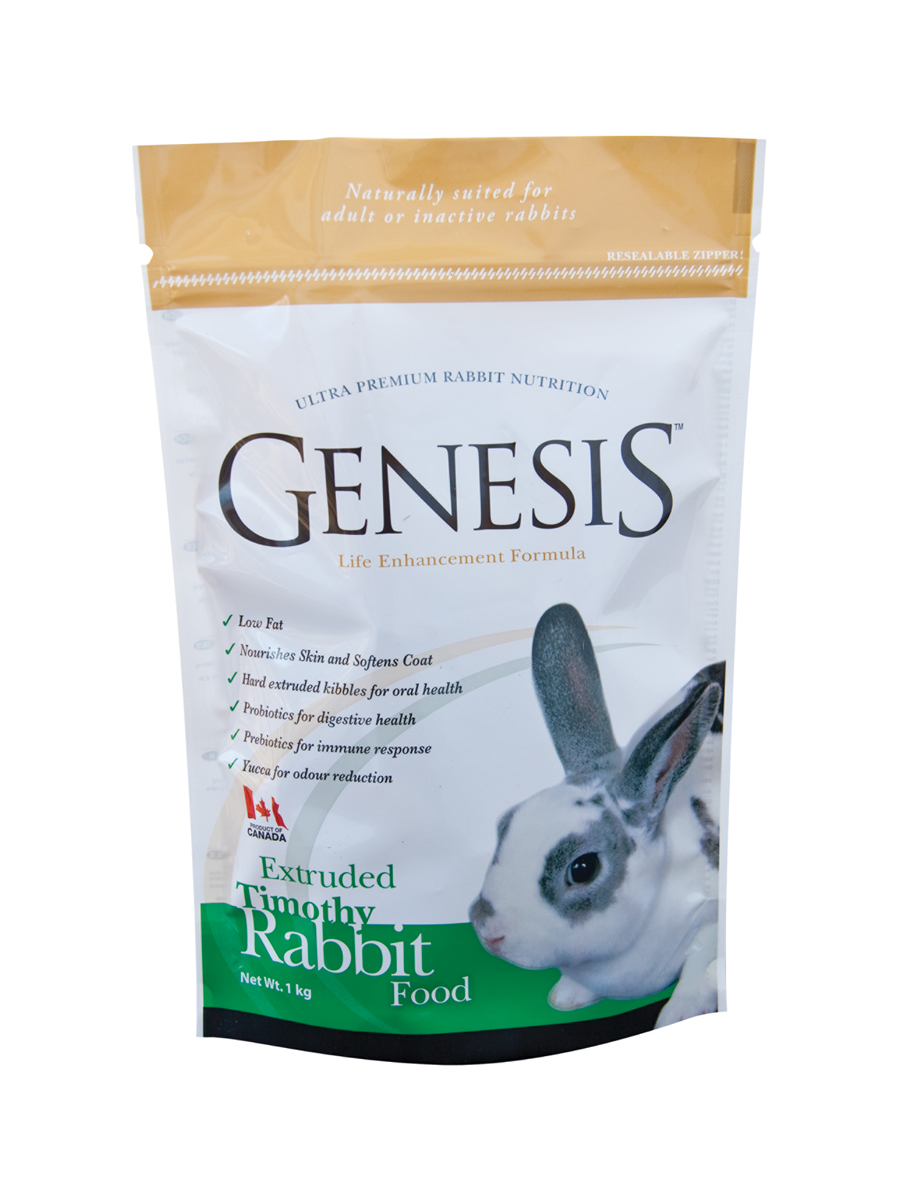 Genesis Extruded Timothy Rabbit Food
is a complete formula specifically developed for adult rabbits. This diet has been designed to provide balanced nutrition for owners wishing to feed a slightly lower nutrient dense diet based on Timothy hay.
Genesis Extruded Timothy Rabbit food is based on Timothy meal, which contains complementary proteins, minerals and vitamins, to support the goals of a Timothy forage diet. Namely, by targeting adequate, but lower levels of protein, calcium, and Vitamins A and D3, and slightly higher levels of crude fibre.
Genesis Extruded Timothy Rabbit Food Features:
Omega 3 & 6 Fatty Acids - to help nourish skin and promote a soft and silky coat

Hard Extruded Kibbles – to support dental care

Prebiotics MOS & Inulin – to aid in digestion and support your rabbit's natural defense system

Yucca – to promote fecal odour reduction

Beneficial Fibre – to support proper digestion

Low Fat
INGREDIENTS:
Timothy Hay, Wheat Feed, Dehydrated Alfalfa Meal, Ground Barley, Soybean Meal, Wheat, Chicory Inulin Extract (min. 0.90%), Soya Oil (preserved with Rosemary Extract, Vitamin E and Citric Acid), Sodium Chloride, Calcium Carbonate, Dicalcium Phosphate, Magnesium Oxide, Dried Brewers Yeast, Yeast Extract (MOS 0.014%), Yucca Schidigera Extract (min. 0.0018%)
NUTRITIONAL ADDITIVES:
Vitamin A 17600 iu/kg
Vitamin D3 2000 iu/kg
Vitamin E 55 mg/kg
TRACE ELEMENTS:
Copper (as cupric sulphate, pentahydrate) 15 mg/kg
Zinc (as zinc oxide) 75 mg/kg
Manganese (as manganous oxide) 60 mg/kg
Iron (as ferrous sulphate, monohydrate) 75 mg/kg
Iodine (as calcium iodate, anhydrous) 1.1 mg/kg
Cobalt Carbonate (3b304) 0.1 mg/kg
Selenium (as sodium selenite) 0.2 mg/kg
ANALYTICAL CONSTITUENTS:
Crude Protein 15.0 %
Crude Fat 2.5 %
Crude Fibres 18.0 %
Moisture 10.0 %
Crude Ash 6.39 %
Calcium 0.80 %
Phosphorous 0.50 %
Potassium 1.19 %
Sodium 0.20 %
Magnesium 0.36 %
Omega 3 Fatty Acids 0.04 %
Omega 6 Fatty Acids 1.04 %
TECHNOLOGICAL ADDITIVES:
NATURAL ANTIOXIDANTS
What our Customers are saying:
"Hello, my name is Nano. We have tasted and tasted and tasted some more...and we have come to the conclusion that Genesis is the best pellet ever made and we recommend it to all bunnies around the world! We love it and surely other bunnies will too!"
-- Nano -- The Rabbit From Finland
CLICK TO VIEW OUR OTHER GENESIS PRODUCTS: